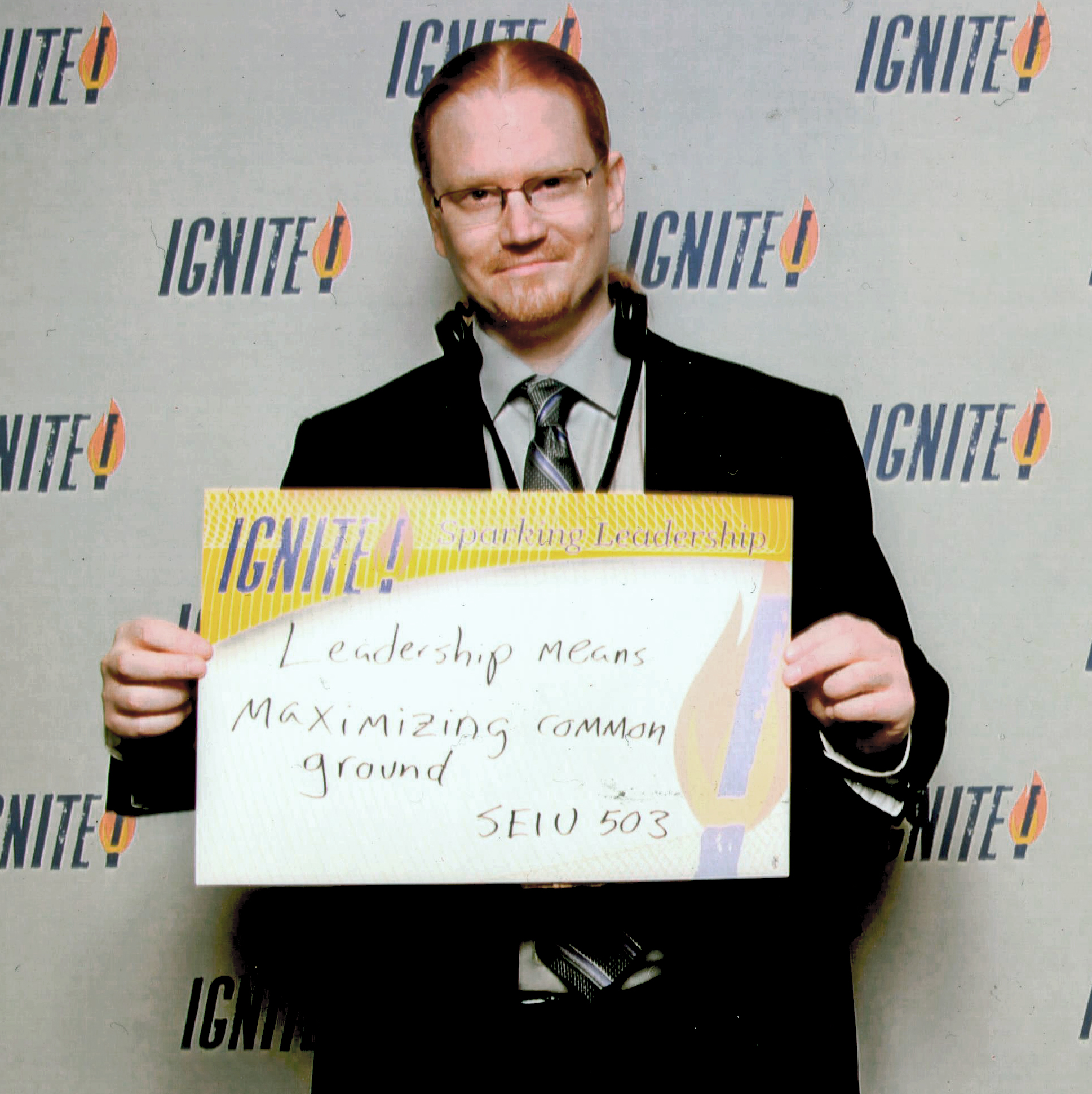 If there were a leadership yearbook, what would your yearbook superlative be and why?
"Least Likely To Be On Human Resources' Secret Santa List" – because I have spent the last year holding HR accountable not only to their bosses in administration, but to the workers whom they claim to represent, and in particular to the most vulnerable members of our community, who often find themselves bullied, harassed, and dehumanized on the basis of their race, ability, gender, and class by the very organization that boasts to donors of its unwavering commitment to inclusion and social justice.
What is one of your proudest leadership moments during the past year and why? Feel free to share more than one.
We discovered, during the course of a discrimination investigation, that a mid-level HR administrator at the University of Oregon had rubber-stamped a request from an office manager to obtain full read/write access to all of our member's electronic communications – email, voicemail, everything – in the middle of an active union investigation. Despite admitting to ignorance of policies regarding electronic communications, HR handed the full archive of employee communications over to management for an illegal information dragnet, without the member's knowledge, effectively turning a the university into a small-scale NSA-style surveillance network.
Fortunately, I happen to be on the Policy Advisory Committee with the university, and as luck would have it, the university policies on data classification and access were nearing expiration and coming up for review at our committee. I familiarized myself with the policies and, when they came forward for review, outlined exactly how and why they failed to offer adequate protections to employee rights and confidentiality. I argued that SEIU, United Academics, and the University Senate needed to review and vet the policies and procedures before anything could be made permanent.
What followed was a month of negotiating with UO General Council, proposals and counter-proposals with Information Services, PR releases to SEIU members and to the wider university community, pulling together a task force of information technology and security experts from our Union membership, and finally a very public showdown on the floor of the University Senate in which I had to threaten to pull SEIU's support and essentially sink the entire set of Data Classification and Security Policies for the university unless General Council gave us the protections that they had promised (and thus far failed to deliver).
Within a week of the Senate showdown, we had the policies and procedures in place, and any access to employee electronic communications had to be approved in advance and with the employee's consent by a transparent internal procedure accountable ultimately to the Provost of the university. We had won our policies. We had stared down the administration on the floor of the university senate, and the administration blinked. Now, when they are asked whether a manager can simply access employee emails at their whim, HR has to point to the policies that their arrogance and lack of due diligence forced SEIU to craft.
Looking ahead to this year, what do you want to be the next step in your development as a leader? How will that step help our movement for economic and racial justice?
As I move into my new role as Chief Steward for my local here at the University of Oregon, I plan to reach out and build broader power coalitions both among our sister unions at the university – United Academics and the Graduate Teaching Fellows Federation – and within the larger community; to strengthen our media presence and our outreach; to bring the various stakeholders in the creation of a better future together in solidarity, in vision, and in voice. I plan to become increasingly involved in local political campaigns and activism, to have my voice heard beyond the walls of the administration of the university, to lend my hands to the building of the future that we all know must become a reality if our society is to survive and flourish in the times ahead. I plan to fight.
Anything else you would like to add?
The SEIU Ignite conference was one of the more inspiring and energizing times in my life. It was both humbling and electrifying to witness the wider, international context of the fight for justice and human dignity that I see every day at the University of Oregon. The realization that we are not alone in this fight – that it is a truly global struggle – and that the energy, the momentum, and the arc of history are all on our side, has only strengthened my resolve to take on these issues with relentless and unwavering dedication both in my local worksite and in the great battle for a better future for all.